PLANNING OF SCHOOL EXTERNAL AREAS
The combination of functionality, technology and color are constant elements in our school projects. Our playgrounds offer to children an environment outside the school where they can make discoveries, play and have fun through settings and representations of great educational value. Furthermore, schools increasingly need of external surfaces suitable for all children, where the game becomes constructive, educational, safe and inclusive.
Furthermore, for a school, public or private, costs optimization is essential. This is why in our projects for external school areas we almost always expect to install anti-shock rubber flooring.This kind oh flooring allows us to combine high levels of safety for children, colorful and stimulating play areas and long-lasting solutions that are easy to manage. The poured rubber is easy to wash, durable foe a long time and maintains its elasticity over time without excessive maintenance.
OUR MASTERY IN
SCHOOL LUDIC AREAS DESIGNS:

Twenty-five years of industry experience
Latest generation design tools
Collaboration with the best companies in the world of play equipment and furnishings
Management of "turnkey" projects
Laying of high-level anti-trauma surfaces, with long-lasting colors and elasticity

Attention to the needs of all children, even with any type of disability
THE DESIGN STAGES OF A PLAYGROUND: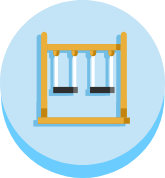 LOCATION OF FLOORING, GAMES, FURNITURE AND SCENOGRAPHY