GAMES FOR PUBLIC AND PRIVATE PARKS
Stimuli and fun in total safety. These are the three basic requirements of our projects. Each playground is a world to explore and grow in, a place for sharing, socializing and meeting.
In a playground, children have the opportunity to have fun, make friends and free their imagination. Shapes, equipment, designs, colors are all great stimuli that, if well designed, can make the experience of educational and stimulating play in all aspects. We also integrate games with high quality and playful rubber decorations.
MANY GAMES FOR DIFFERENT STIMULATION:
Swings and Inclusive Swings
Roundabouts and spring games

Decorative and educational panels

Paths of balance and springboards

PLAY WITH OUR GAMES FOR PARKS IS: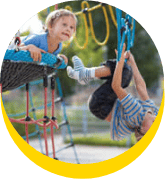 INCLUSIVE GAMES FOR ALL CHILDREN
Playing is a right for all children
In modern society, where the myth of efficiency and productivity is relentlessly bearne for, disabled children risk becoming "invisible". In a playground it is important to consider the world of disability in all its facets, choosing games for parks suitable for every child, with or without disabilities. Including, means truly allowing everyone to play close together and with the same playful equipment, regardless of the child's physical or mental condition. In addition to continuous anti-shock surfaces, even play equipments and all furniture are important in order to design and creat an high quality inclusive play area. For years we have been studying the best solutions to really allow all children to play and have fun together, without barriers and without differences.

Our play equipments are really fantastic in ensuring psycomotor-cognitive development but also sensory-intellectual one and reduce the possible barriers of difference between disabled and non-disabled children. Colors help children to know and express their emotions; the most disparate themes - from pirates to fairy tales - are oxygen for their imagination; natural materials, uneven surfaces, springs, ropes and slides are tools to discover the world through body and movement. For this reason, we have chosen to represent only the best companies in the playground sector and those who pay more attention to the inclusive equipment development.
SAFE EQUIPMENT
The safety of a game designed for a play area is an essential requirement without which, beauty and fun, have no value. The brands that we have selected over many years of playgrounds design, guarantee the highest safety standards, both in materials and in the use of the equipment itself.
Maintenance is always essential. In fact, playground equipments are subject to very intense use, weather and sun rays. Our products are of high quality and very resistant, but constant care and monitoring are essential to ensure the correct level of safety for children.

Closely related to the safety of the games is the antitrauma flooring material, in consideration to fall hights and free spaces. In fact, according to the EN1177 standard, every play equipments need an adequate antitrauma surface; to advise our customers abt the best choice of anti-shock flooring materials and thickness (based on their HIC), is an integral and essential part of our professionalism.
DURABLE AND SAFE MATERIALS
WOODEN GAMES
The wooden games that we install in our playgrounds are of highest quality and strength. Wood is highly in demand, because is a natural material that integrates perfectly in many landscapes and without doubt, pleasing to the touch and sight.
The kind of wood used for the realization of our games is that of Robinia and Larch one. These two kind of wood are durable and their heartwood - that is the inner part of the trunk – is very resistant, and does not require the use of heavy metals to be protected from atmospheric agents. The wood is also treated to prevent aging, but with non-toxic substances.
* [Because, if from one side, pine is an economic wood and too widespread in playgrounds, from another one, it leaves much to be desired in terms of resistance, above all fixed in the ground, but also with exposure to UV rays if it does not have particular treatments.]
Among various types of wood, lamellar is almost always used, not only because, being turned, avoids any staticity and durability problems, but also because it is aesthetically better. In the solid product, on the other hand, the posts used in the games are obtained from the inside of the trunk to ensure greater resistance and a lower presence of splinters and are often left with irregular shapes precisely to stimulate the creativity and movement of children.
METAL
The metal used for the games of our brands is galvanized and powder coated steel and stainless steel, resistant to corrosion and properly sanded. This material isn't natural but ecological, because they are completely recyclable.
Plastic materials and derivatives
Materials of extreme durability and quality, resistant to UV rays, maintaining vivid colors over time. The products used are: polypropylene, polyethylene, polyamide or polycarbonate and HPL, all completely recyclable.
ROPES
Ropes are both a safety element and an integral part of the playful value of a game. For this reason it is essential that they are extremely resistant. In fact, these are steel cables covered in polypropylene and polyethylene, as indicated and determined by the current regulations.