3D SHAPE IN CASTING RUBBER
Funny and fun shapes with which children have fun, interact, play and socialize. The PLAYFORME® shapes fit perfectly into our flooring, creating stimulating sets for children's imagination. Shapes are made of colored EPDM rubber, non-toxic and weatherproof. Designed for both preschoolers and public areas with free access, our PLAYFORME® offers great gaming opportunities, in total safety and without maintenance difficulties.
THE ADVANTAGES OF OUR
PLAYFORME

:
Variety of lasting and uniform colors
UV and weather resistance

Completely non-toxic materials
Easy cleaning and maintenance
UNI EN 1176 certification
PLAY WITH OUR
PLAYFORME

STIMULATES: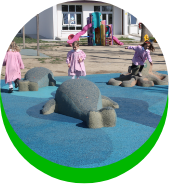 PLAYFORME® is the line dedicated to public playgrounds, and especially to schools, attended by children of all ages. Shapes are designed and developed specifically for public use.
GREAT STIMULUS FOR GREAT DREAMERS
The PLAYFORME® shapes offer the possibility to create truly special play areas, where children have the opportunity to express all their protagonism, their creativity and imagination. Interacting with a colorful form, like a plant or an animal, becomes a powerful stimulus for movement and creativity. This happens even more if the rubber shapes are integrated into different types of flooring.
Italian Garden is specialized in playgrounds and school play areas projects: creating play areas that offer various motor and sensory experiences is a constant goal. Thus our PLAYFORME® interact with rubber and synthetic grass flooring of different thicknesses, animating colorful and imaginative spaces.
GAME AND SOCIALIZATION
Our rubber shapes are real points of socialization, as they allow more children to stop at a time of play at the same time. Thus the PLAYFORME® shapes offer opportunities for shared fun, even more exciting adventures where you crawl, climb over, walk and run. Fantasy is free to indulge in playgrounds that come to life through a sea theme - fish that swim, crabs on the beach - or through countryside theme where ladybugs lie on the lawn and frogs on the ponds.
DO YOU WANT TO BECOME A

PLAYFORME

DEALER?